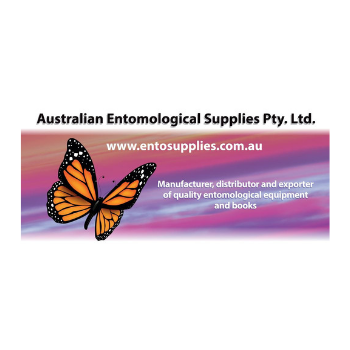 Australian Entomological Supplies is a manufacturer, distributor and exporter of quality entomological equipment and books.
Australian Entomological Supplies is a family-owned business that has been supplying entomologists and scientists with quality scientific equipment, supplies and books since 1962. They proudly manufacture some of the finest insect collecting sets available in Australia.
Via their online store, you can browse and purchase categories such as Embedded Specimens, Field Equipment, Laboratory Equipment, Magnification and Storage Equipment. They also offer a wide range of books in the genre of science including Entomology, Zoology, and Botanics.
More about Australian Entomological Supplies
Australian Entomological Supplies has been supplying scientists, educators and enthusiasts with quality entomological equipment and books for over 50 years.
It was established in 1962 by noted Australian scientist Max Moulds and was then passed onto Alan Frazer. Over 46 years, Alan grew the business into one of the most respected and trusted suppliers of scientific equipment in the country. In 2018, the company was taken over by husband and wife duo Wayne and Kimberly. Situated in the Northern Rivers of New South Wales, they supply products throughout Australia and the rest of the world.
Products Include:
Hand lenses
Insect cabinets
Insect pins
Microscopes
Specimen tubes
Store boxes
Books on entomology and other sciences
Breeding cages
Butterfly nets
Display cases
Dissecting equipment
Embedded specimens
To get in touch with the team at EntoSupplies, you can find their postal address below:
Australian Entomological Supplies Pty Ltd
Unit 3, 173 Lundberg Drive, South Murwillumbah, NSW 2484.
Ph: (02) 6684 7650
Email: sales@entosupplies.com.au
In-store hours: By appointment
Oculus Group – Helping Local Businesses Thrive
The team at Oculus are proud to help support Australian Entomological Supplies with their finances. If you'd like to learn more about how we can help your business, please Contact Us.