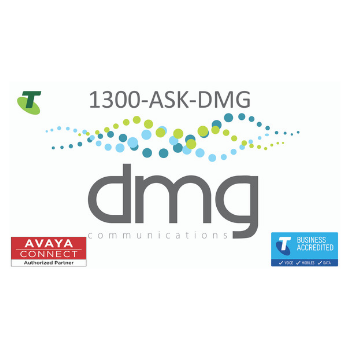 DMG Communications provides the latest in feature rich technology to assist their clients in working more efficiently to ensure their customers have seamless communications with the business from their very first call.
DMG Communications specialises in providing state of the art telecommunications solutions, from Phone Systems to Installation, Training and Telstra. The team can help your staff to work more effectively and efficiently from home.
The teamwork with quality brands such as Avaya, Cisco Meraki and Microsoft to provide telecommunications infrastructure for small to medium businesses. Additionally, the AMG Communications team provide multi-site solutions and hospitality and large national and international corporations with excellent support to enable maximum efficiency, whether from home or the workplace.
DMG Services Offered:
Phone systems
IT Support
Telstra Dealer
Video Conferencing
Call centre solutions
Office 365 setup and management
Services Used by the DMG Communications Team:
As accounting experts, we help small-to-medium businesses simplify their workflow and bookkeeping, making tax time a breeze for clients like DMG Communications. As the chosen Tweed Heads Financial Advisor we offer:
We offer a variety of services, but what we are known for is working as accountants who are suited to entrepreneurs and innovators who want to take their business to new levels. We go that one step further to try a little bit harder. Our team thinks more laterally and approaches your accounts proactively.
We love using our skillset to support your business in running efficiently, and so are looking to make things as easy as possible for you!
If you're looking for an obligation free quote from us, contact our accountants Gold Coast via email, or give us a call on (07) 5536 3755. Additionally, check out the services and packages we offer.