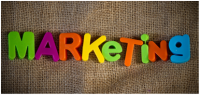 In  today's volatile economy, businesses need to attract customers with more than just traditional media strategies to get them in the door and keep them returning. Now is not the time to be reducing the marketing budget. More than ever, it is important that a brand is not forgotten. A clever marketing strategy can save time and money.
The media, particularly the internet, is cluttered with ineffective marketing campaigns. Simply having a Facebook page is not enough to engage customers. Although a website or social media is useful, its effectiveness is limited if a proper system for using and updating it is not in place. Direct communication still works; get in touch promptly and personally by email or even via a phone call.
It is important, however, to find more innovative ways to attract people to the product.
Time and place
Firstly, think about when and where a business attracts customers. Marketing is most effective if the customer is targeted when they are in the right frame of mind and place to be receptive to new ideas. Quick impressions are important, so try and consider senses beyond the visual. Repeat exposure is also central. Consider how to target the ideal customer in a variety of locations, at different times of the day. This way brand awareness is built over time.
Local involvement
If the business is based locally, consider engaging with the community at a grass roots level. Investigate the most popular activities in the area, whether a sporting club or music group, and try and get involved. Beyond having a logo on a program or poster, allowing promotional use of a product or offering to help out with administration pro-bono is the best way to generate goodwill.
If sending employees out into the field ensure that they are properly trained. They must know all the details about the product in order to convince others of its uses and benefits.
Virtual trade shows
Although trade shows are still a good idea, a virtual tradeshow is another relatively inexpensive way of publicising the brand and the service. There are a number of virtual tradeshow websites that offer the necessary software. It is a relatively easy process and it is possible to measure the booth's performance by noting how many people entered the booth site or watched the information videos.
One clever way of marketing is to invite customer feedback, while subtly educating them about the product. Asking customers what they think is a good way to engage their empathy and to tailor the most suitable marketing strategy.
Never stop thinking about new marketing strategies. Even old customers will be excited about having their business with a company that appears to be dynamic and innovative.