ARTICLES
The rules of social media etiquette
There is no denying that social media is fast becoming the most powerful way for businesses to communicate with their existing and potential customers.
Although it has become a new approach to communication, businesses should always remember to treat their customers as if they were dealing with them face-to-face. Here are some important rules to remember when using social media for business:
Fill out the details

Fill out the profile information completely, providing the name of the business, a way to make contact and some information on what services and products the business offers. This will assure the customer that the businesses profile is legitimate.
It is important to have an appropriate profile picture such as the company logo so that clients are able to easily identify with the brand.
It is not a good idea to have the same profile for both business and personal use. Creating separate accounts will keep clients separated from friends and ensure that the business maintains a professional image.
Use manners
It may seem simple, however treating clients with respect online can go a long way. Things as simple as saying 'please' and 'thank you' can give a positive image of the business.
It doesn't matter that the interactions are occurring behind a screen, clients should be treated exactly how they would in person.
Offer something of value
Use the social media platforms to engage with customers and offer them something of value. Clients will become quickly bored with images and posts only about the business.
Don't just restrict content to only focus on the business, interact with clients about current events or topics that are relevant to the business, or find interesting quotes and images to share.
Facebook and Instagram are also key platforms for offering competitions or giveaways. Clients will be eager to be active on the profile if they are getting something out of it as well.
Don't over-share
Although businesses are keen to be active on social media to ensure that they are reaching their target market, this can be just as bad as not posting at all.
No-one likes the friend who barrages their page with multiple posts a day and the same goes for businesses.  Keeping posts to one or two a day will keep the business active on their clients feed; however will not annoy them enough so that they click 'unfollow.'
It is a good idea for businesses to implement a content plan and map out when, and what, they will post to each social media platform.  Also, think about the best time to post for the target audience.
For example, if the business targets professionals it would be ideal to post in the morning and afternoon when they are commuting to work as they are likely on their own personal social media pages.
Reread what is written
Consider composing tweets or posts in a word document before posting them. This allows time to edit the text for grammar  and spelling mistakes. Also, remember that the Internet never forgets and one post in the heat of the moment can go viral, damaging the reputation of a business and losing a lot of clients.
Common website building mistakes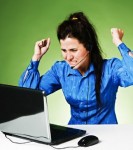 It's uncommon these days for a business not to have a website. Most businesses understand the power of having an online website and its ability to increase sales.
However, simply having a website doesn't necessarily mean it is going to drive the results that are expected.
A lot of businesses find themselves falling into common traps and overlooking important aspects when designing and building a website.
Below is a list of four common mistakes business owners are likely to make when building a website:
Difficult to navigate
Customers don't want to waste their time clicking through a number of website pages to make a purchase. Websites that drive the customer to purchase will have only one call to action button. When designing a website, businesses should decide on what action is most important and emphasise that option above all others. For example, if a business is focused on online sales, then the 'buy now' button should be most prominent on the page.
Too much content
Clients don't want to waste their time reading through an overload of text. Instead, consider whether the information is best displayed visually, through an image or video.
Not thinking about mobile
Most businesses are focused on designing a website for online that they often forget about mobile. Mobile traffic is only going to increase, so businesses should design a website with both desktop and website in mind. A good mobile website should be structured similar to an app, designed for easy navigation and a constant visible call to action button.
Overly complex jargon
Businesses often struggle to describe what they do without using complicated industry jargon.  Any text used on the website should be structured towards the target audience and be written in a way that is easily understood by them.
A guide to netiquette
The way an email is composed can say a lot about a business's professionalism and image.
Despite emails being a main medium of contact, many still don't understand the importance of email etiquette.
Netiquette is a term used to describe the correct etiquette when composing business emails. Sending a poorly written email to a client can damage a business's reputation with the click of a mouse.
Here are some points to keep in mind when composing and sending a business email:
Think of the tone
The tone of an email sends a strong message about the business to the receiver. Short and overly formal emails can come across as stern and impersonal; however, friendly and colloquial emails can come across as unprofessional. It is always best to remember that it is a business email, so it is a good idea to play it safe and keep it professional until the sender and recipient have developed a relationship.
Spelling, grammar and punctuation
Incorrect spelling, grammar, and punctuation are a quick way to ruin the business's image. It shows a lack of attention to detail and also a level of laziness and carelessness.
Email providers can be set up to check for errors in the text, but it is always important to read over the email twice before sending.
Keep it short and concise
Some clients may receive countless emails a day and don't have time to read lengthy emails.  A rule of thumb is to concentrate on one subject per email, anymore, and it is best to have the discussion over the phone or in person.
Use a meaningful subject
Use the subject field to explain the subject of the email in simple key terms. Vague and confusing fields, such as "Hi" or Important business," will only confuse the receiver.  Keeping the subject field direct and clear will also help the receiver find the email in their inbox quickly, if necessary.
Reply promptly
Businesses would not return a business call or attend a business meeting late so they should act similarly with their emails. It is respectful and courteous to reply to emails promptly. Do not use emails for conversations that should be face to face, or over the phone. Email is not an appropriate medium of contact for conversations that involve conflict or criticism.
Emails can often be misunderstood and misconstrued, so it is best for sensitive topics and conversations to occur over the phone, or face to face.
Social media trade promotions
A popular way to promote a business's goods and services is via their social media pages.
However, it is important that social media trade promotions comply with trade promotion law and a few other rules unique to social media.
Consumer competitions or contests, also known as trade promotions, are an increasingly popular way for businesses to promote their products and services. As social media becomes the mainstream business communication tool, the attraction to promote trade promotions on social media platforms is obvious.
As social media continues to attract more individuals it is fast becoming an effective way to engage with customers, create hype for a brand and provide businesses the opportunity to increase its following.
However, before businesses begin planning their social media campaigns they need to consider their legal obligations.
Misleading or deceptive conduct
Consumer Laws outline prohibitions against misleading and deceptive conduct within social media trade promotions. Content posted onto social media should be checked and cleared similarly to traditional media.
Advertising industry codes
Social media advertisements are regulated under various advertising codes, such as the Code of Ethics in Australia. Businesses need to ensure that their social media campaign complies with the relevant codes to prevent incurring any penalties. Each country also has its own set of regulations on how trade promotions should be conducted, so businesses will also need to comply with them.
Social media terms and conditions
When a business registers for a social media platform they enter into a contract with the social media provider. The business's use of the platform is governed by this contract. Also, by registering with the site the business has agreed to follow a set of terms and conditions.
The company's trade promotions must comply with both the contract and the outlined terms and conditions, or the company risks being removed from the platform.
Website essentials to increase sales
Websites are often a key tool in marketing a business towards its target audience.
It is important that the website is designed to increase customer engagement and attract more sales. Here are some simple tips on improving the business's website to increase sales: ""
optimise the website to create customer conversions, this will guide customers to contact the business via a prominent phone number, web form, or live chat ""
provide links on social media pages, such as Facebook or Twitter that allow customers to click through to the company's website. ""
make the website mobile-friendly, this will allow customers to access the website from any location at any time ""
keep the content on the website balanced and accurate, it is also important to remove content about products and services that are no longer offered by the business ""
use engaging videos to build credibility and attract visitors who are not interested in reading a lot of text. ""
remove any outdated design elements as a modern and simple design is more likely to visually engage the visitor
""make the website user friendly as having pages that take too long to load will only drive customers away.
Securing the businesses online presence
Businesses are becoming more concerned with having an online presence; however they should also be concerned about the security issues that this can cause.
There is always a risk of malicious campaigns or viruses occurring online in an attempt to infiltrate business systems.
Even if the business is not directly active online, its employees most certainly are. This can present a risk if the employees are discussing the business online, or if they are accessing their social media accounts on the business's computers.
The best way to approach the businesses security online is through a frequently reviewed set of procedures and policies, including:
create a policy and procedures document on social media activity within the business. Ensure that all employees are familiar with it, and what they can and cannot do concerning their personal online presence.
double check when opening a link from a social media page on business computers as hackers may create false pages to obtain a business's log in details.
ensure that the business has different emails for each social media platform. If hackers are able to get their hands on the email for one site, they are likely to attempt to hack different accounts.
advise employees to choose their online friends wisely and that it is not wise to accept friend requests from people they do not know. "" Hold regular workshops and seminars with employees and provide technical assistance to educate them on the latest security practices and what dangers they may be facing online.
Keeping customers engaged with great social media content
An important part of social media marketing is to create and share valuable content in order to attract customers to engage with the brand. However, many businesses find this a challenge.
Social media marketing is a powerful tool to promote the business and to also establish a connection with the target market. The content created by a business should closely relate to what they are trying to sell. Their job is to educate people about the brand so that the customer is able to get to know, trust and like the business.
Creating good content for social media can be a daunting and time-consuming task. It can take only a few seconds to capture, or lose, a person's interest. However, producing great content is not as difficult as it seems.
A key to great content is that it must be consistent and regularly updated. This is important because it will keep the business relevant in people's news feeds.
Content does not have to be completely original work. It can be a combination of new content developed by the business, and content sourced from other platforms. However, do not forget to link back to the source that the content was taken from.
Another good idea is to ask questions, or share a quote or tip. This will entice the audience to respond, share and join in the conversation.
Good content should be interesting, informative and engaging. It is a good idea to steer clear of technical jargon as the majority of people may not be able to understand. Remember who the target audience are and use language that will appeal to them.
Creating great content for social media does not have to be restricted to written text. Great content can also come in the form of photographs and videos. These forms of content are an effective way at capturing an audience's attention and are also able to deliver more information.
It is also an opportunity to create links across social media sites that allow customers to click through to the website, or share the videos and pictures onto their own news feeds. Most importantly, the content created on social media should always be relevant to the business.
The social side of SEO
Social media is having an increasingly important impact on a business's search ranking.
A business's social media presence, as well as the quality of the content they develop, plays an important role in how visible they are in search results.
SEO strategies used to rely heavily on link building; however this will no longer be enough. Marketing success will be unattainable without highly shareable content.
When a business's content is posted and shared on social media it sends social signals such as likes, tweets, pins or shares.
These social signals are the factors that can determine a business's rank in a search result.
Businesses should be creating content that is worth sharing. The best social content is the kind that gets followers and fans talking. It is unique, valuable information that leave its audience wanting more. Social influence will not occur overnight; it will take time and effort to build up a strong and loyal following.
If businesses wish to maximise their social media capital, then they need to remember that social media is community based. It is important to be social and actually participate within the platform.
Promote YouTube videos
YouTube is an effective tool in placing a business's brand, product or service in front of millions of potential viewers and connecting with both existing and potential customers. However, the platform is often overlooked in favour of sites such as Facebook or Twitter. Here are some basic strategies to follow when promoting YouTube videos:
Begin by using the tools that are available directly through YouTube. For example, provide a detailed and accurate title and description for each video uploaded and use associated tags and keywords that are directly relevant.
Incorporate a call to action within the video to encourage people to like, rate, comment on and share the video with their friends and colleagues.
Begin promoting the video to friends, customers and clients of the business. Ask these people to watch and share the video with their online friends.
Take advantage of the power and capabilities of online social networking to promote the video. Use the business's online presence on platforms such as Facebook and Instagram to provide links to the video and encourage customers to watch.
Incorporate the video into the business's website/blog and use it as an alternate to writing large chunks of text, or lengthy descriptions.
Try to collaborate on videos with businesses that have a strong presence on YouTube and that are also targeting a similar audience. However, it is best not to collaborate with businesses that are direct competition.
Consider paying for keyword advertising on Google and Facebook to further promote the video.