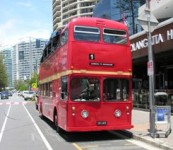 Well at least that's what it looked like as the Oculus team boarded the Big Red London Bus to cruise the streets of the Gold Coast. The team quickly slipped into party mode while waving to passing onlookers. The bus ride allowed for plenty of time to sip champagne and enjoy a Thai entree, before arriving at our secret destination…..
After much speculation the bus finally stopped at the Elephant Rock Cafe, Currumbin. The excitement continued to grow as the red carpet was rolled out and we strutted our 'Hollywood' stuff into the restaurant to attend the official 'Oculus Academy awards'.
On arrival we were greeted with a delicious cocktail before participating in some 'Hollywood Trivia'. Congratulations to Bec for taking home the trivia prize. Who knew she watched so many movies!
Following our indulgent lunch came the moment we had all been waiting for… the 'Oculus Academy Awards'. The presentation had everyone in stiches as they eagerly awaited their well deserved Oscar.
The winners went to:
The Hoff – BJ Newie
The Big Kuhuna – David de Closey
The Seinfield award – Phil Thomson
Best dressed – Cass Herps, for her classic and stylish 'Audrey Hepburn' outfit.
Before leaving the party, we were each given presents from Santa. A great end to a great day!
Thank you Team Oculus!
You can check out our stylish pics on facebook here!