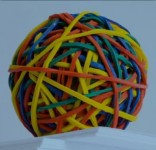 Productivity in the workplace is affected by a number of different things.
Being aware of common barriers to productivity in the workplace, as well as engaging with advice on how to boost your productivity to above average levels, can be extremely beneficial to your business outcomes.
Here are five things that all businesses should be thinking about:
1. Motivating Staff
More motivated staff equate to a more productive company. Adequate remuneration is an important factor in job satisfaction (and staff retention). However, there are a lot of other important contributors to job satisfaction, including an appropriate system of reward and recognition.
Ensuring that workplace complaints are heard and seriously considered is another significant factor in staff motivation. Additionally, increasing individual accountability for tasks will improve work ethic and increase people's sense of achievement.
2. Expanding Skill Sets
There are a lot of advantages to rotating employee tasks wherever possible. Your staff will develop a more diverse skill set, people will feel that they are making career progression and it will increase employee engagement. Assigning one staff member as a trainer or mentor to others who will be learning skills from them is a great way to demonstrate your confidence in someone, while simultaneously giving you an opportunity to evaluate their leadership skills before a promotion.
3. Digital Organisation
With so many workplaces having become paperless it is now easy to feel that your office is an organised environment. However, digital clutter can be an issue when servers and hard drives become a disorganised mess. If staff have difficulty locating documents or programs this can be a significant barrier to productivity. Additionally, it creates a sense of disorder that can impact their perception of management. Organising the company's digital work place, and encouraging individual staff members to be similarly organised can go a long way in improving your productivity.
4. Productivity Software
There are a lot of new productivity software products and apps that are designed specifically for the workplace. Some of these are even created for specific industries and/or roles. Examples of helpful software products or apps include digital time trackers, to do lists, productivity monitors and project management software.
Remaining aware of new workplace productivity software, especially if it is an industry specific development, will ensure that you maintain your competitive edge. If you do go ahead with purchasing productivity software, ensure that you provide staff with adequate training in using it.
5. Scheduling Communication
Returning phone calls and responding to emails is not just time consuming it can also be extremely bad for employee productivity. Constant interruptions break people's concentration and can be very distracting. By encouraging your staff to have specific times each day that they return phone calls and emails you can improve the productivity and concentration of your staff.