As one of the Gold Coast's most certified Xero Accountants, we will help make managing your business easier.
Our extensive range of industry knowledge expands from small startup businesses and entrepreneurs to health and beauty e-commerce and hospitality.
As certified Xero accountants, we know how to alleviate your accounting and administrative load, so that you can shift your focus back to other essential areas of your business.
Choose Oculus Group because we're here to create solutions.
What is Xero?
Xero is cloud-based accounting software that gives businesses insights into real-time cash flow and finances. 
Xero can help you run every part of your business, including inventory, payroll, bank connections, bank reconciliation, bills, projects, and expenses faster than ever so that when it comes to tax time, everything is sorted.
Gone are the days of being tied to a desk! You can now manage invoices, payments, and single touch payroll from any device, anywhere.
It's easy to see why the Xero cloud accounting software is a dream come true for new-age businesses looking to make the transition to a paperless recording.
What Gold Coast businesses should look for when choosing a Xero accountant
It's important to choose an accountant who is experienced in using Xero to maximise the potential of your business.
Here at Oculus Group, we have been recognised as Gold Champion Partners by Xero which means our team has undergone accredited Xero training and demonstrated significant experience helping our clients with Xero.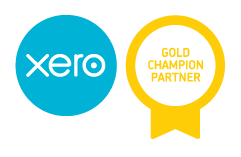 In addition to this, we have obtained the following certifications:
Xero Payroll Certified
Xero Advisor Certified
Our team has also been recognised by Xero as being a specialist in the following areas:
Single Touch Payroll
Migration of clients to Xero from other accounting platforms
We know firsthand how this software can simplify and add value to your business.
Having Oculus Group as your Xero accountants means we can provide you with professional Xero training, assistance while customising Xero accounts and dashboards, and review and suggest appropriate additional software to increase your efficiency.
Why choose Oculus Group?
Our aim is to help you succeed and we know that success is something different for each of our clients. That's why we tailor each of our business coaching, accounting, financial planning, lending, investment planning and retirement strategies to each client. We want to help out growing businesses and entrepreneurs in the areas they need it most.
When you work with our accounting team, you are buying:
Knowledge
We put in the hours and do the hard slog so that we are up-to-date with all relevant knowledge.
Proactivity
You don't know what you don't know (and you shouldn't be expected to!) It's our job to keep you informed and we continuously participate in advanced training seminars to keep ourselves up to date.
Answers
You don't expect to pay for time spent searching for answers. And you don't when we're always at the top of our game and prepared with the answers, products and strategies
Creativity
Creativity is not a word usually associated with accounting; but when you know your job as well as we do, you're beyond compliance. This gives us room to push the boundaries and advise you on the best options out there.
Experience
With our extensive history, client base and commitment to delivering the best results, you can rest assured that we can advise you on the best strategies – and pull it off.