Business Interruption Insurance
While many see the importance of car or home and c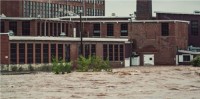 ontents insurance, many small businesses have not considered what they would do if something unexpected were to happen which would force their business to temporarily close.
With many small businesses being the livelihood of entire families, it is important for owners to consider taking out business interruption insurance in order to safeguard against financial loss experienced as a result of incidents such as fire, floods, damage and burglaries.
Business Interruption insurance provides cover against a loss of gross profit, and differs entirely from insurance covering business property, equipment and stock.
In the case of a fire for example, business interruption insurance can ease the burden of having to pay rent, electricity and staff while the business is closed for repairs.
Businesses have a range of policies to choose from, however these only cover permanent overhead costs such as rent, and not all of the costs associated with running a business.
For example, a clothing shop out of action will not have to buy new stock, pay casual staff, and pay for sale advertising, so as a result these cannot be factored into the policy.
Business interruption insurance is one way of protecting small businesses against unexpected risks and incidents, and is often overlooked in favour of property or equipment insurance.
However, business interruption insurance claims can be one of the more tricky types of claim faced by a business.
Some common issues include:
The definition of 'damage' in the policy
Whether the business losses claimed have been the result of the specified damage. If a business suffers a fire as a result of a burglary, then the policy will have to clearly define whether the business was 'damaged' as a result of the fire or the robbery
How the losses should be calculated. Recent court cases have highlighted the complexity involved in calculating losses, with differing calculations between the insurance company and the business ultimately affecting the claim payout
Small business owners worried about insurance premiums should note that most premiums including those covering property, fire theft and loss of profits are tax deductible.
In this volatile economy, business interruption insurance may help minimise the risks and costs of running a business. To protect your family income and reduce the risk of a total loss, call us to discuss your needs.