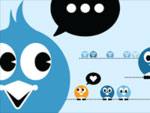 Is your business part of the conversation?
As the use of social media amongst consumers explodes (even one of our 70 year old clients is on Facebook), businesses everywhere have tried to figure out how to capitalise on this phenomenon.
9 MILLION AHEAD.
Some have been very successful, case in point – Dell.
In the middle of 2009 Dell had 600,000 followers on their Twitter page and $3 million in direct sales.
Fast forward to the end of the year and their followers jumped to over 3.5 million and their sales rocketed to $9 million for the whole of 2009.
Pretty incredible. But what does Facebook, Twitter and the like mean to small business?
BE PART OF THE CONVERSATION.
Social media is all about the conversation: what someone thinks of the latest blockbuster movie, what they're doing this weekend and their experience at a new restaurant. Good experience, bad experience, people love to express their opinion. So more than likely, the conversation already involves your business – wouldn't it be great to be involved in that conversation?
Read on for four things you need to consider if you are looking to utilise social media for business purposes.
4 THINGS YOU NEED TO CONSIDER WITH FACEBOOK FOR BUSINESS.
1. Free social media is not completely without cost
Most social media websites, at their basic level, are free. Therefore, if used effectively, social media marketing can create a significant amount of profit, for minimal cost. However, this marketing does require a significant time commitment. You may have to hire someone to manage this aspect of your business or train your staff in social media skills.
2. Establish your goals
The goals of social media marketing are likely to be: finding new customers, generating sales and increasing profits. Further uses for this form of marketing include developing a brand, engaging with customers and ensuring customer loyalty.
3. Define a niche
Focus on your specialities and location when developing a social media marketing strategy. If you have a clearly defined speciality it is usually much easier to develop a following online. As with traditional advertising, it is essential to identify and tailor your message to your target customers.
4. Location and focus
You must get your marketing message to your customers' preferred sites, rather than expecting them to find your business. Choosing one primary means for spreading your message, while using secondary channels to redirect your customers to your main channel, may be the best strategy. For example, it is possible to create a blog and use Twitter to redirect your customers to it.
GET STARTED.
While it can be exciting to jump on board immediately, this form of marketing involves being diligent. You should ensure your business systems and procedures are set up correctly to track and measure any social media marketing you undertake.
THINK: Social media marketing requires a significant and sustained commitment. You must contribute to your social media sites consistently and maintain your engagement with customers in order to see results.