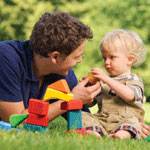 As the name suggests, income protection is the best way to protect your current income if you are unable to work due to illness or injury. This type of policy pays up to 75% of your gross annual income, in monthly payments, to cover your living expenses. Income protection has waiting and benefit periods.
Why you need income protection
While we readily consider protecting our possessions, we often neglect to protect our ability to earn an income. Income protection is important if you have:
debts, such as a mortgage, credit cards or personal loans you couldn't pay if you were unable to work due to sickness or injury
little or no savings
the need for regular income to pay ongoing family expenses such as food, household bills, rates, school fees or running a car, and
a family that you would like to ensure are financially protected if you were unable to work.
If you fit the bill, consider the facts below.
The Facts
There are more than 2 million working age Australians with a disability.
In 2008, over 140,000 Australians were seriously injured at work.
690,000 Australians were injured at work in 2005-06, with 43% receiving no form of financial assistance.
For a free financial check up, make an appointment with one of our Financial Advisers here at Oculus Group Gold Coast Accountants.