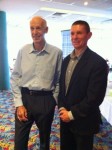 It was a full house this morning at the Gold Coast/Tweed networking business breakfast. Entrepreneur and bestselling author, Bob Ansett spoke about his multi-million dollar international business and how he built Budget Rent a Car from scratch. Bob disclosed the ups and downs of great success and provided tips on building corporate culture and its links to customer service, leadership, motivation, marketing and management.
To start the breakfast Oculus Director David de Closey introduced the new Aged Care Service at Oculus. David explained the ever increasing need for such a specialist field on the Gold Coast and Tweed Heads and why Oculus will be offering these services in the local community. Oculus is the major sponsor of the Business Excellence breakfast.
The Business Excellence Breakfast meetings are held monthly to provide networking opportunities with like-minded businesses. It's an opportunity to hear Australia's top speakers, network, feel inspired and learn ways to improve your business and increase profits.
For more information or to see who's speaking next click here