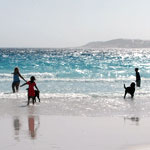 As we approach the holiday season, our thoughts turn to the things that matter most – family, friends, fun and freedom. Make sure you're protecting what's important.
Learn about the different types of covers that can protect you and your family:
Life cover – also known as term life insurance or death cover, pays a specified amount to your beneficiaries ensuring that they are looked after in the event of your death
Income protection – the best way to protect your current income if you are unable to work due to illness or injury
Trauma insurance – provides a lump sum benefit or equivalent instalments if you're diagnosed with a specific illness or injury
Unfortunately, most people are either not insured or are severely underinsured to protect what they treasure most in the event of an accident, sickness or death. Putting some assurances in place can reduce your stress, create certainty and peace of mind and allow you to live your holiday to the full!
Contact an Oculus advisor to choose the right type of insurance protection you need to protect you and your family.